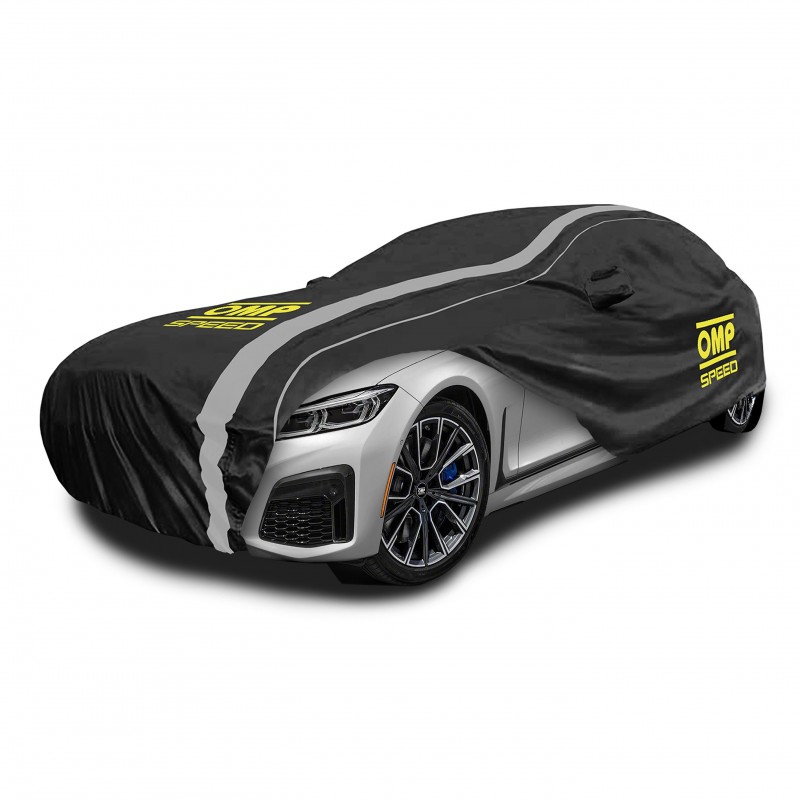 

GENERAL: OMP Speed 3 layer car cover size S. This is a protective car cover that is suitable for indoor and outdoor use. It will protect your car from dirt, dust, snow, frost, etc. In other words, this car cover will cool the temperature of the car in the summer and maintain the temperature of the car in the winter.

CHARACTERISTICS OMP CAR COVERS:

-They are waterproof, so those of you who leave your car in the street can buy one to keep your car dry in case of rain, and protect it from scratches in case of hail. In bad weather, good car covers!
-They will protect your vehicle from saltpetre in coastal areas, hailstones, etc. They will keep your car in the best condition and you won't have to wash it frequently.
They come with an anti-theft system, so you won't have to worry that when you come back, your car cover will be gone.
-They are made of very good quality materials with UV protection, water resistant, breathable fabric and with a plush inner layer to avoid any scratches.
-They are very comfortable to put on and fit perfectly according to the measurements.
-Unique and exclusive detail! Did you know that the OMP car covers have something that the others don't have? A space to leave the number plate visible! Even if your vehicle is parked, you must always have your number plate visible and legible by law. If this is not the case, the fine is 80 euros. On the other hand, this cover has reflective lines so that your car can be seen easily from a distance, which will reduce the chances of other vehicles colliding with it. So, in case you leave your car in a place with poor light, this detail will make your vehicle more visible. Buy your OMP car cover and you won't regret it!

OMP exterior car cover in black and grey colour with yellow logo
Size S - 406x165x120
OMP SPEED 3-layer car cover 110g/m2
UV protection
Water resistant
Breathable fabric
Fleeced inner layer
Calculated space for rear-view mirrors and transparent material for viewing the vehicle's number plate
Durable fabric
Anti-theft, grommets
Waterproof
Elastic band
Scratch protection


VEHICLE COMPATIBILITY:

Brand: Audi Model: A1
Brand: Austin Model: Cooper
Brand: BMW Model: i3
Brand: Citroen Model: C1/C3
Brand: Dacia Model: Spring
Brand: Fiat Model: 500/600-D
Brand: Fiat Model: 850 Spyder /Sport Racer
Brand: Fiat Model: Panda
Brand: Ford Model: Fiesta
Brand: Honda Model: 600/CRX/E/Jazz
Brand: Hyundai Model: i10/i20
Brand: Kia Model: Picanto
Brand: Lancia Model: Ypsilon
Brand: Lotus Model: Elan/Elite/Elise
Brand: Mazda Model: MX-5
Brand: MINI Model: 3D/5D
Brand: Mitsubishi Model: Space Star
Brand: Nissan Model: Micra
Brand: Opel Model: Corsa
Brand: Peugeot Model: 108/206/207/208
Brand: Pontiac Model: Solstice
Brand: Renault Model: Clio/Twingo/Twizy
Brand: Seat Model: Ibiza/Mii electric
Brand: Skoda Model: Citigo iV/Fabia
Brand: Smart Model: EQ forfour/EQ fortwo
Brand: Subaru Model: Justy
Brand: Suzuki Model: Ignis/Swift
Brand: Toyota Model: AYGO/MR-2/Yaris
Brand: Volkswagen Model: Polo/up!

Reviews
No customer reviews for the moment.

Products in the same category